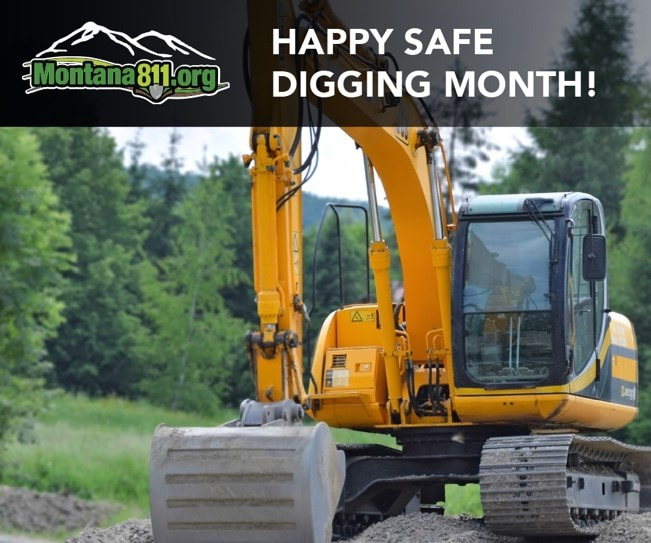 Spring has arrived, and you know what that means- the beginning of excavating season! April marks an important month for the underground damage prevention industry. Since 2007, the U.S. House of Representatives and Senate have recognized April as National Safe Digging Month (NSDM). This month reminds the public to contact Montana 811 (MT811) at least two business days, excluding weekends and holidays, before any excavation project to prevent any damage to underground utilities, injuries, and the disruption of essential services.
NSDM serves as a reminder that there is a complex underground network of pipelines, wires, and cables buried beneath our feet. As a matter of fact, there are over 20 million miles of underground utilities in the U.S. alone (according to Common Ground Alliance statistics). With the official start of spring, homeowners and professional excavators alike are eager to begin their outdoor excavating projects. Regardless of the size of the project, MT811 encourages everyone to file a locate request every time before breaking the surface of the ground.
MT811 users can enter their tickets through a streamlined web-based ticketing system called ITIC Online Ticket Entry. More excavators choose to use the web instead of the phone to file tickets, so ITIC is now the most popular method to submit locate requests. When using ITIC, MT811 sends you an emailed copy of your completed locate request, along with a list of member utilities notified in your excavation area. Users find they can increase efficiency and save time when they enter tickets using ITIC.
Homeowners, click here to file an online ticket: https://bit.ly/2EiIeAm
Professional excavators, click here to file an online ticket:https://bit.ly/2ymoN7q
MT811 takes this opportunity to remind everyone that damage prevention is a shared responsibility, so make sure you do your part. Our thanks to everyone who takes the initial step towards safe excavation by contacting MT811 before they dig. Have a safe and wonderful National Safe Digging Month!
Check out the MT811 event calendar for upcoming excavator/utility company trainings and 811 events here: http://www.montana811.org/calendar/
If you would like to contact us, register for a class or event, or ask a question, fill out the form here: http://www.montana811.org/contact-us.html
You can also contact Clint Kalfell, the Montana Representative, directly at:
406-442-3070 or clint.kalfell@Montana811.org