Montana 811 would like to remind all facility operators to update and confirm their notification areas for their respective utility companies. Take some time early in 2018 to verify that all your company's information in the Montana 811 system is up-to-date. Making sure your notification area database coverage and company contact information is correct will help prevent damages to your organization's underground infrastructure.
Facility operators can use IMAP, an easy-to-use online database management application, to manage their notification area databases. Users can view, add, modify, and delete active notification polygons with this tool. Available 24/7, facility operators can use IMAP to effectively and efficiently manage their company's notification information.
Need a visual example of how IMAP works? See the graphic below.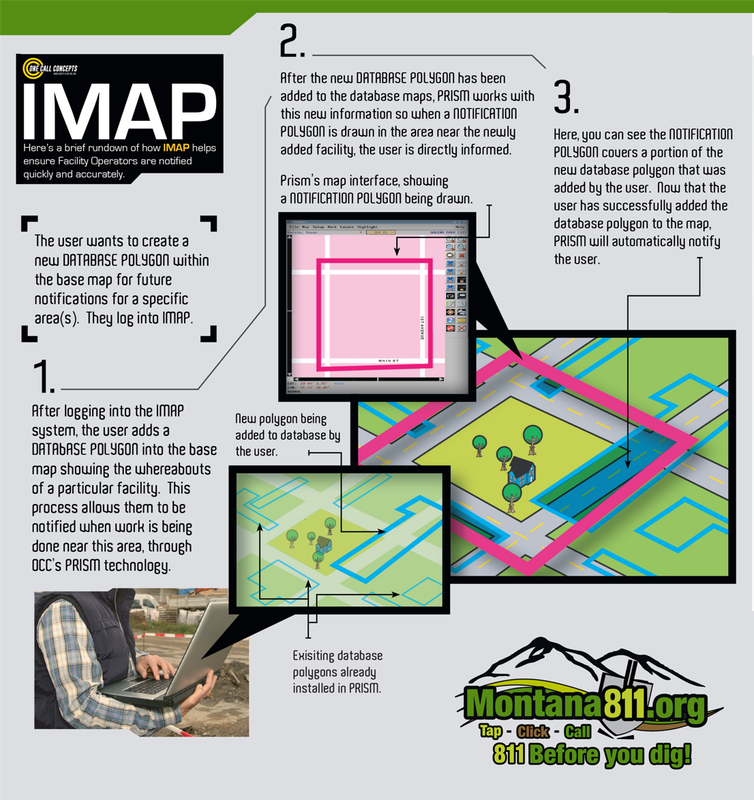 Montana 811 strives to offer streamlined technology to all stakeholders in the damage prevention industry. Together, we can reduce the number of underground damages that occur on a day-to-day basis.
For any additional questions or comments about IMAP, please contact Clint Kalfell by calling 406-442-3070 or emailing clint.kalfell@Montana811.org.
Click here for additional IMAP training resources (training videos and the IMAP manual): http://bit.ly/2nAkOzW